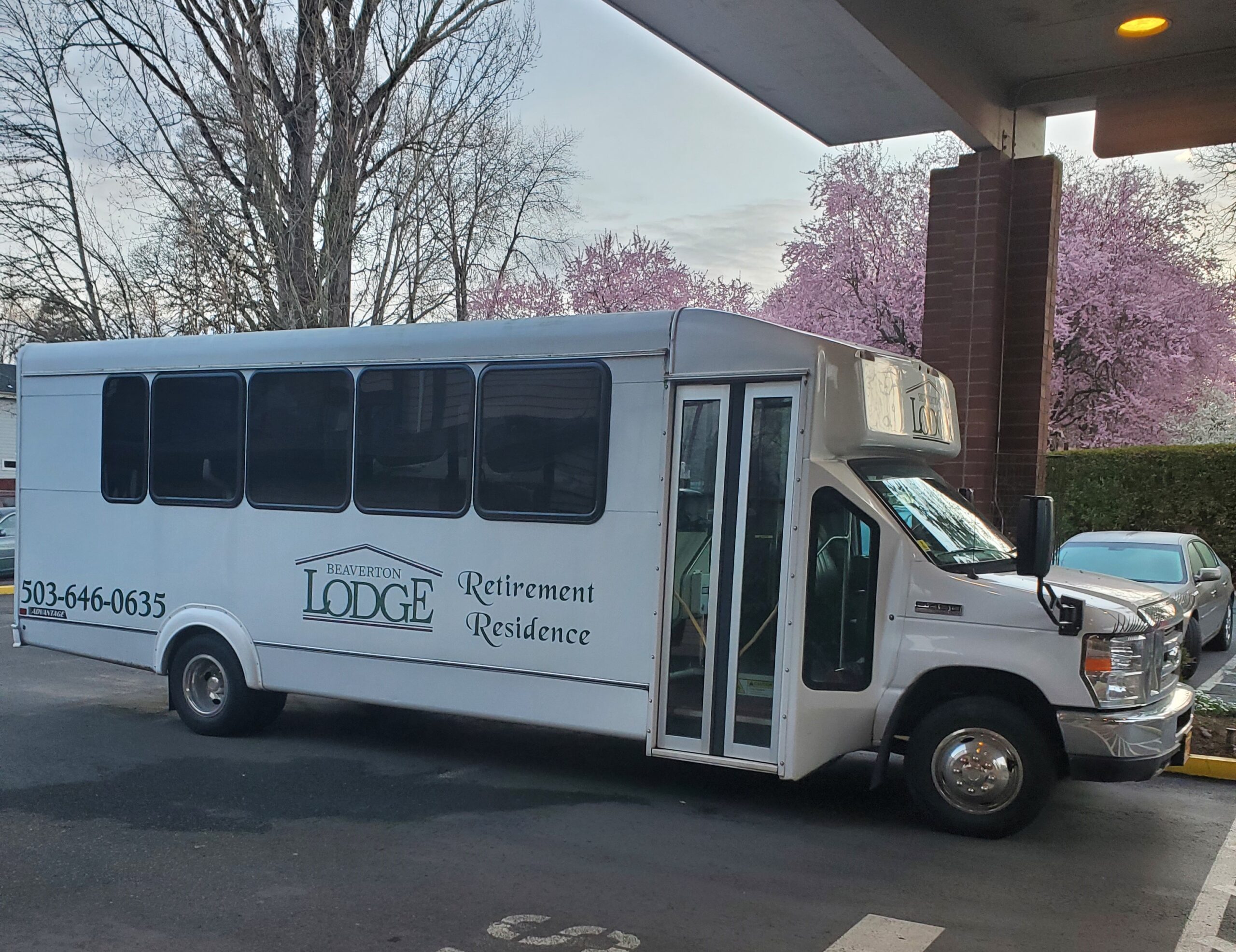 Complimentary Scheduled Transportation
We pride ourselves on our transportation services at Beaverton Lodge. In addition to our luxury bus we have two passenger vehicles to take residents shopping and to doctors appointments.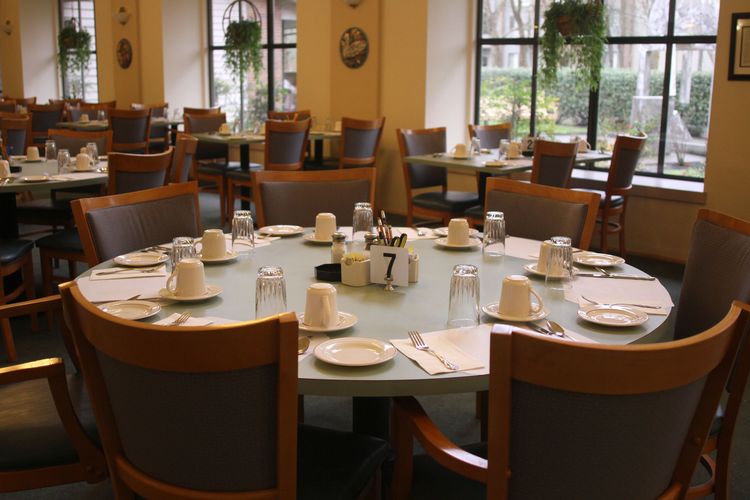 Dining
Beaverton Lodge's optional meal program is designed to meet everyone's preference. Dinner is included in the monthly rent while breakfast and lunch are optional. The dining room hours are flexible as well. During times of illness, a room service tray can be delivered to your apartment for a small additional charge to residents. 
Our kitchen, when possible, serves seasonal organic produce, natural beef and chicken, as well as organic seasonal seafood (supplied directly from Oregon Coast fisherman). Beaverton Lodge also offers sugar-free, and gluten-free dining options for healthy living.
Golden Gallery
Golden Gallery provides exhibition space for artists reaching their full potential after 60. Six exhibitions each year feature well known NW artists as well as local emerging artists. The gallery celebrates the artistic accomplishment of these individuals and welcomes the public to engage and participate.
The Gallery is open daily during regular business hours of 9:00 am to 6:00 pm.
Outdoor Garden Area
A large outdoor area is set aside for resident gardens. Each resident that desires to garden is assigned a section of a raised bed that they can cultivate.
Beaverton Creek runs along one side of the 4.3 acre Beaverton Lodge site. This lovely meandering stream provides refreshing nature watching possibilities with the resident ducks and songbirds.
A walking path runs along the creek and connects to community hiking paths that crisscross Beaverton. A bridge crosses the creek and residents walk the neighboring property as well.
Exercise Room, Pool, and Spa
Large exercise room with Spa and heated indoor mineral saline swimming pool, along with locker room, changing rooms and private shower stalls.
Other Services Include
Complimentary Movies & Travel logs in the HDTV Theater, as well as sports games including Blazer games and special events. Enjoy the fresh popcorn everyday.
Indoor Greenhouse Potting Room
Beauty and Barber Shop on site
Free Wireless internet in common areas around building
Two elevators for ease of access.
Large Social Room featuring Entertainers, Plays and Special Events.
Monthly Activities
Friday Night Sing-along
Current Events Discussion Group
Read Aloud Hour (a talk with photos and detail on Oregon history)
Women's Study Group ( discussions on little known women)
Brain Boosters (trivia, geography, grammar, history and of course homework)
Play CARD-O (like Bingo with teams and using cards)
Bingo (several unique types included)
Walking Club (several times each week)
Play Jeopardy
Listen to Music Hour (From Big Bands to Country)
Bring your Favorite Photo ( discussion)
Bring an Antique (discussion)
Beat Al Game (neat Alzheimer's memory game)
Do I know you? ( group discussion with questions about your life)
Water Aerobics Class
Exercise Classes
Art Classes
Craft Classes
Plus a variety of speakers, entertainers, authors, medical information speakers and many more special activities.
Our Special Monthly Birthday Party with entertainment.